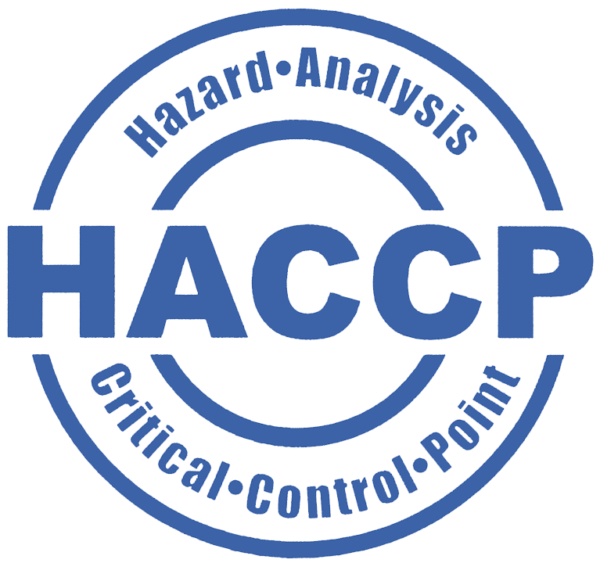 HACCP is a management system in which food safety is addressed through the analysis and control of biological, chemical, and physical hazards from raw material production, procurement and handling, to manufacturing, distribution and consumption of the finished product.

What is HACCP color coding?

HACCP color coding is system that prevents cross contamination and other food-related hazards in food industry and other food preparation facilities. Companies that are applying color coding are commitet to the quality and safety of their products. Color coding simply usage of certain color for certain areas and tools. A wide range of colors are availabe for color coding, and you can apply it on every tool that you are using in production or food preparation (cutting boards, knives, thermometers…)

What are the Benefits of HACCP Color Coding?

Color coding is one of the most easiest and most effective ways to prevent cross contamination, and it's application is very understanding and quick to implement.

Furthermore, color is a universal language. Regardless of nationality, color is the same in any language and it is easy to comprehend. Color coding will improve your every day operations, but at the same time it will show your concern for the customer and his safety. You need determination to prevent food contamination.

What colors do we use?

For raw meat you will use red,

Blue for raw fish will be spread.

Cooked meat is color in yellow,

Green salads and fruits are our best fellows.
Vegetables rule in brown,

While dairy and bakery are in white crown.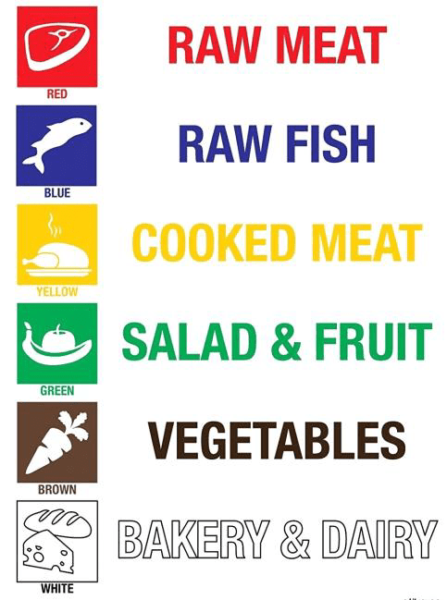 Hanna Instruments solution for HACCP color coding
Checktemp® 4 Folding Thermometer – HI151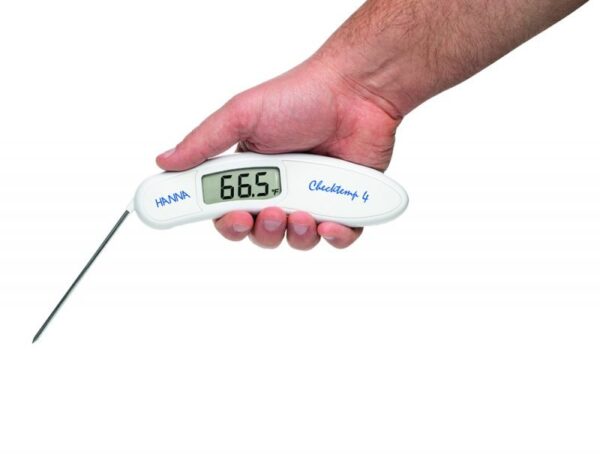 The HI151 Checktemp® 4 is a folding thermistor thermometer that can measure temperature up to 300 °C (572 °F). These thermometers offer many advanced features including CAL-Check for an internal verification of the electronics and a motion sensor which eliminates the need of closing and reopening the probe when the meter enters a power saving mode. The Checktemp 4 is available in six different colors which can be assigned to different products to avoid cross contamination in the restaurant, kitchen or production facility.
CAL Check to verify meter performance
Waterproof to IP67 Standards
Wake on motion
Ergonomic Design with Rubberized Grip

Checktemp® 4 has an ergonomic design that fits comfortably in the hand. The meter uses vulcanized rubber that is available in 6 different colors for a non-slip grip.

Waterproof Durable Casing

The Checktemp thermometer is completely waterproof to IP67 standards. The IP67 standard is for continuous immersion in water up to 1 meter (3′) in depth. The meters will actually float if accidentally dropped into a pot, vat or any other container.

Penetration Probe

The sharp, AISI 316 stainless steel probe is ideal for testing fresh, cooked and semi frozen food. The NTC thermistor is located in the sensing tip and allows for the measurement of food that is 2 cm (0.79″) thick.

Instrument Quality Certificate for Traceability

HI151 is calibrated to five points (-20.0, 0.0, 25.0, 60.0 and 120.0 oC) and tested at three points using reference meters, the accuracy of which is traceable to NIST in the USA or an internationally acceptable national physical standards. Each meter is serialized and supplied with an instrument quality certificate

CAL-Check

With all thermometers there is drift in the electronics over time. Every time the thermometer is switched ON the LCD will display "CAL" then "-0-", indicating that the factory calibration has been verified and the thermometer is ready for use.

Wake on Motion Sensor

The meter has an adjustable power save mode that can be disabled. The power save mode can be programmed to turn the display off and conserve power after 1, 2, 8, or 60 minutes. The built-in motion sensor detects when the meter is picked up and automatically turns the display back on.
Color coding solutions from Hanna Instruments for your needs!
Checktemp® 4 Folding Thermometer – HI151 for raw meat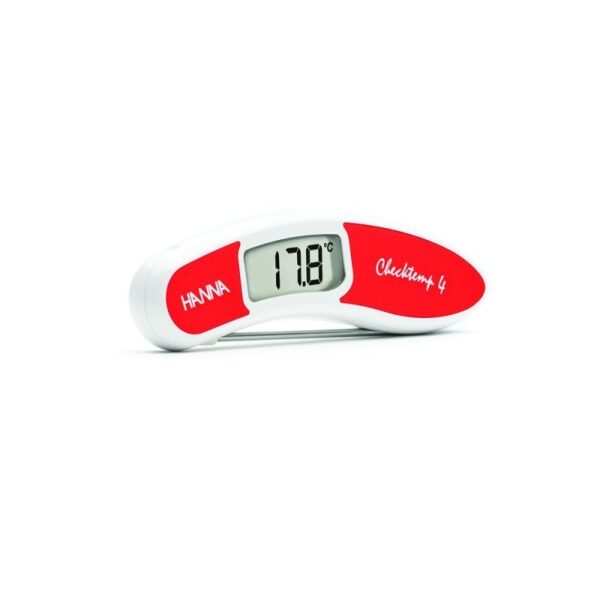 Checktemp® 4 Folding Thermometer – HI151 for raw fish
Checktemp® 4 Folding Thermometer – HI151 for cooked meat
Checktemp® 4 Folding Thermometer – HI151 for salads and fruits
Checktemp® 4 Folding Thermometer – HI151 for vegetables
Checktemp® 4 Folding Thermometer – HI151 for dairy and bakery
Author: Tajana Frančić, mag.nutr.