Customer Goran Šnajder contacted Hanna Instruments with inquiry related to constant monitoring of pH and EC for his greenhouse flower production.

OPG Šnajder is a big flower production in Velika Ludina, and needed a simple way of nutrient management in their flower production.

Hanna Instruments engineer suggested a better option which would not only solve the monitoring issue but also provide a contstant automatized dosing & monitoring.
HI5000 – mini fertigation system
Fertilizers have been applied through a wide range of irrigation systems for many years and are the most commonly injected chemicals. Many of the older methods required significant worker contact and trial-and-error techniques. With the introduction of better technology, applying pesticides has become more widespread as a necessary complement to fertilizer injection. Drip and micro-irrigation, prevalent in greenhouses and hydroponic environments, have a characteristic not shared by other irrigation methods; fertigation is not an option but is actually necessary. Fertigation provides the only truly efficient way to apply fertilizers physically to the crop root zone. On high value crops, such as lettuce, tomatoes, and commercially produced potted plants, the level of fertigation management for achieving high yields and qualities exceed what is found with other irrigation methods.
The HI5000 Mini Fertigator precisely monitors and controls fertilizer concentrations and pH for small to mid-sized specialized hydroponics and greenhouse applications. The HI5000 is designed to be used with a mixing tank whereby fertilizer recipes can be mixed exactly to the needs of your crop. The system can be equipped to perfectly control the amount of fertilized water distributed to your plants, lowering costs and saving resources.
Customize your fertilizer mixtures with up to 4 stock tanks can be utilized for multiple crops and customized blending.
Perfect for Hydroponics & Indoor Gardening.
Precision nutrient & acid control to professional grower and advanced home grower alike.
Customer was very satisfied because the system HI5000 provided him a peace of mind a huge time savings.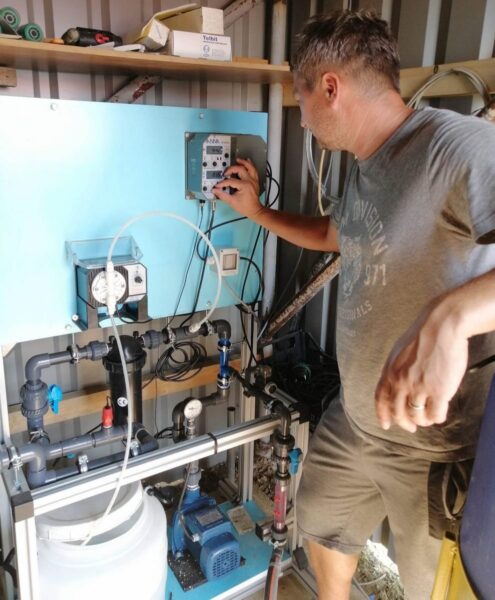 Customize your fertilizer mixtures
The HI5000 comes equipped with 2 independent nutrient injectors, each with a max capacity up to 200 l/h. Additional injectors can be added to accommodate multiple nutrients.
Control pH accurately.
The HI5000 comes with a separate pH controller and designated pump specifically designed to handle the most aggressive acids.
Customizable and expandable.
Select the controllers, number of pumps and types of probes you wish to use. The system can be designed to your needs and  specifications.The Hanna HI5000 continuously measures the actual EC and pH of the blending tank or trough system and precisely adjusts the concentration of fertilizer and acid or base.The HI5000 can be equipped with the HI8000 Series Controller allowing you to automate your entire irrigation system. Control pumps, solenoids, for a completely hands free operation.The HI5000 (when equipped with the HI8000 Controller) has the capability to utilize the AgriCare software which allows you the ability to monitor and control the system remotely.
Customer was also advised for portable check ups of exit values with HI9814 Groline pH/EC/TDS meter
Designed to bring simplicity to nutrient testing, the HI9814 Portable GroLine Meter is designed specifically for Hydroponic growers. The specialized electrode combines 3 sensors in a single rugged probe featuring a polypropylene body, integrated temperature sensor, and cloth junction.
One combined, pre-amplified pH, EC, and TDS (ppm) probe for hassle-free measurements.
Quick CAL mode for a speedy, single-point calibration for pH and EC with one solution.
Designed for hydroponic, aquaponic, and greenhouse growers.
A single calibration solution for pH and conductivity makes calibration fast and ensures all of your measurements are accurate each time for better plant health and better yield.
Customer really appreciated that he can save time on calibration, due to the QuickCal function which allows pH and EC calibration with only one solution and multiparameter probe provides quick and precise measurements shown simultaneously on multilevel screen.