Determination of water content is important in order to maintain compliance with the Pharmacopeia guidelines.
Topical medications are remedial, drug-containing substances that are generally applied to surfaces of the body. Topical medications come in a variety of forms which include creams, lotions, gels, patches, and ointments. Ointments, specifically, are highly viscous medications that are prepared from materials such as paraffin wax, beeswax, or vegetable oils. Most ointments contain very little water, making them ideal for moisturizing and protecting the affected area. Bacitracin zinc is an antibiotic that is commonly incorporated into ointments. This drug is used for preventing infections in minor skin injuries when applied topically.
Base materials for ointments may be characterized by their water number. Water number is the maximum amount of water that 100 g of a drug base can contain at a specific temperature. Excess moisture content can adversely affect the stability, release rate, and consistency of the drug preparation. The standards for water content of most drug preparation base materials are set by the Pharmacopeia, an organization that sets quality standards for drug properties as well as approved methods of analysis.
An antibiotic ointment manufacturing leans on high accuracy in the lower range, as the pharmacopeia monograph states that ointments must be below 1% water content.
Karl Fischer Coulometric Titrator
HI934 Coulometric Karl Fischer Titrator is ideal for samples with water content ranging from 1 ppm to 5%. The generation of titrant in the cell eliminates the need for periodic standardization, a time-saving feature.

The Pharmacopeia monograph states that samples must be dissolved in a 7:3 toluene/methanol solvent prior to titration, with HI934 has built-in calculations for external dissolutions. Since the HI934 can support up to 100 different titration methods, so there is a potential for expansion into analysis of different products.
Coulometric Karl Fischer titrations are considered absolute, standardization is not necessary.
Water standards can be titrated as a system check to ensure proper system functioning.
Diaphragm – less titration
Diaphragm-less titration offers very low drift rates and easy cell maintenance.
To overcome the drawbacks of diaphragm titrations, diaphragm-less titration systems were made through modification of the generator's design and modification of the reagent. The cathode's surface is much smaller compared to the anode, allowing the generated iodine to react before possibly reaching the cathode. The reagent is also modified to prevent oxidizable sulfur compounds from forming.
Purposeful Generator Design
Two styles of generators are available for the HI934; a fritted design ideal for samples with low water content and high accuracy demand; and a fritless generator allowing for easier cleaning and maintenance.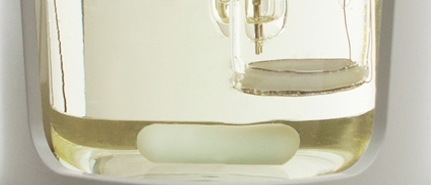 Fritted (Diaphragm) Generator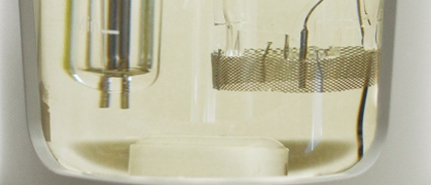 Fritless (No Diaphragm) Generator
Karl Fischer
Coulometric Titrator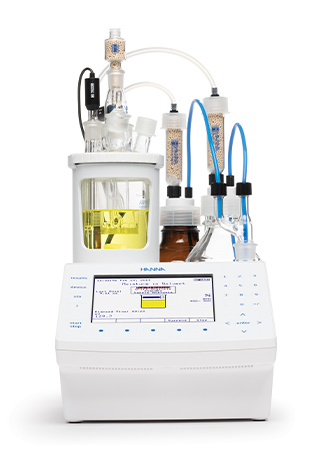 For scientists and professionals who need exact water content determination from 1 ppm to 5%, our new generation of the Coulometric Karl Fischer Titrator is engineered to meet or exceed your technical requirements while delivering a lower cost of ownership.
With cutting-edge features packed into a compact design, this titrator delivers accurate results and requires less space in the lab. Get accurate water content determination at the push of a button. Designed for the modern lab, this karl fischer titrator is the perfect fit for your testing environment.
Compact design will save space in the lab without compromising your results.
Durable heat and chemical resistant body.
Sealed solvent system helps to keep water out of the system, while giving you minimal exposure to the reagents.
The titration speed feature allows for timely and accurate titration results by relating the amount of iodine generated to the mV response from the Karl Fischer reaction.
The HI934 automatically adjusts the titration calculation to account for the effects of any ambient humidity entering the titration cell. This provides a more accurate result by correcting for water not present in the actual sample.
Titration Results Averaging
Successive results from a titration method may be averaged with recording of the standard deviation.
Selectable Endpoint Criteria
The HI934 employs a dual platinum pin electrode for bivoltammetric endpoint determination. Users may choose termination criteria based on mV stability times or drift rates.
Multistage Cell Preparation
A pre-titration stage eliminates residual water present in the solvent and the cell, providing a reliable baseline start to analysis. Standby mode then keeps the solvent dry between titrations and when the titrator is not in use.
Range: 1 ppm to 5%
Resolution: 0.1ppm to 0.0001%
Result Units: %, ppm, ppt, mg/g, μg/g, mg, μg, mg/mL, μg/mL, mg Br/100g, g Br/100g, mg Br, g Br
Precision Iodine Generation
Hanna's dosing algorithm allows for an extremely small amount of iodine necessary for the Karl Fischer reaction to be generated electrolytically using a pulsed current up to 400 mA delivering titrant accurately and precisely.
Chemically Resistant Titration Vessel and Tubing
The glass titration cell and PTFE tubing is designed to withstand the harsh solvents and reagents involved in Karl Fischer reactions.
Ground glass joints completely seal the glass titration cell minimizing exposure to ambient humidity, keeping the system dry, and reducing reagent consumption while saving time between titrations. Solvent may be exchanged in a matter of seconds with a quick fitting adjustment.
Molecular Sieve Desiccant
High efficiency molecular sieve desiccant helps maintain low and stable drift rates within the titration cell while preventing the ingress of ambient humidity into the sealed solvent system.
Automatic, integrated magnetic stirrer adjustable from 200-2000 RPM with optical feedback for automatic speed control.
Detailed Titration Graphs
A real-time titration curve can be displayed during each titration; this feature is useful when new methods are tested or when a procedure requires optimization.
Interactive Color Display
A large, color LCD screen clearly shows the chosen titration method along with results, units, drift rate, and mV value.
Simple and Quick Navigation
Virtual key selections present on the display allow for simple and quick navigation between screens and menus without getting lost in a nest of information.
Titrator Data & Reporting
Customizable Titration Reports
Each titration report is fully customizable so users can ensure they are storing and filing the appropriate data required for their application and procedures.
All necessary GLP (Good Laboratory Practice) information can be recorded with each sample including: sample identification, company and operator name, date, time, electrode ID codes, and calibration information.
Data can easily be transferred to a USB flash drive or PC with the Hanna HI900PC application software. The USB port allows for the transfer of titration methods, titration reports, and software upgrades via USB flash drive.
The HI934 can store up to 100 user-defined or standard titration methods. Each method may be customized and optimized for performance based on application and user requirements.
Onsite installation, training, and customization is available from one of our Applications or Service experts. Hanna offers continued support via phone or webinar for any questions you might have along the way.
Adaptable Standard Methods
Our technical experts can program and customize standard methods developed by such affiliations as ISO, ASTM, AOAC, AOCS, EPA, and more directly onto your titrator. Ask our Sales Consultants which standard methods are possible with our HI934 Karl Fischer system.
Connectivity & Functionality
Configurable Balance Interface
Sample size may be automatically entered from any laboratory analytical balance with a RS232 serial output saving time and labor.
Users can print reports directly from the titrator using a standard parallel printer. An external monitor and keyboard may be attached for added versatility, as well as an analytical balance for automatic sample mass entry for titrations.
Get Peace of Mind with Hanna!
At Hanna Instruments, we know how important accuracy and reliability are to you and your process. We strive to offer our customers the best solutions, products, and after-sales service. Properly maintaining your equipment is key to your testing success.
With our service plans, you can test your best and worry less! Our highly qualified technicians are here to assist you with trainings and regular preventative maintenance. Keep your titrators running at optimal performance and ensure the lifespan and longevity of your equipment.
Author:
Nives Vinceković Budor mag.ing.chem.ing

With Great Product Come Great Results